Drugs, guns seized as trafficking syndicate in Mackay-Whitsunday region dismantled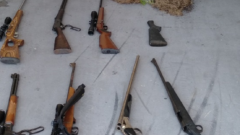 The supply of dangerous drugs from the Whitsundays to the south-east of Queensland has been "successfully interrupted" following a series of raids.
Queensland Police detectives carried out six search warrants last week, from November 25-27, throughout the Mackay and Whitsunday region.
Weapons, steroids, cash and luxury vehicles were allegedly seized during the raids, as part of Operation Sierra NIB.
One of the raids, at an address in Cannonvale, uncovered more than 11 grams of methylampthetamine, 6.9 grams of cocaine, hydroponic equipment and cannabis plants.
A further 15 grams of methylamphetamine, ammunition and an electric conductive device was found at a North Mackay address.
Police officers also found…